✕
Contemporary art gallery Louis Buhl & Co. has announced that it will move out of its longtime space in downtown Detroit and into expansive new digs at the site of a decrepit former convent on the city's east side. Led by Lorcan O'Herlihy Architects (LOHA), the adaptive reuse project will see the crumbling, long-abandoned brick structure at the corner of McClellan Avenue and Agnes Street be reborn as a multifaceted arts hub complete with a production studio, reception area with retail space, and a generously sized exhibition hall enclosed with translucent polycarbonate panels.
A newly built addition located next to the main convent structure will house Louis Buhl & Co.'s archive while a new courtyard on the grounds will serve as a space for outdoor programming and community events when the project debuts—if the current timeline holds—late next year.
Corner view rendering of the new Louis Buhl & Co. location in the East Village neighborhood of Detroit. Image by LOHA, courtesy Library Street Collective
As explained by LOHA founder Lorcan O'Herlihy, the lightness of the translucent panels will work in balance with the durable weathered brick facade that will be retained. At night, a dynamic lighting scheme will give the transformed convent a distinctive glow, rendering it a beacon of sorts for this once-sleepy corner of Detroit's East Village neighborhood that's fast on its way to becoming a new community-centered cultural hub for Motor City.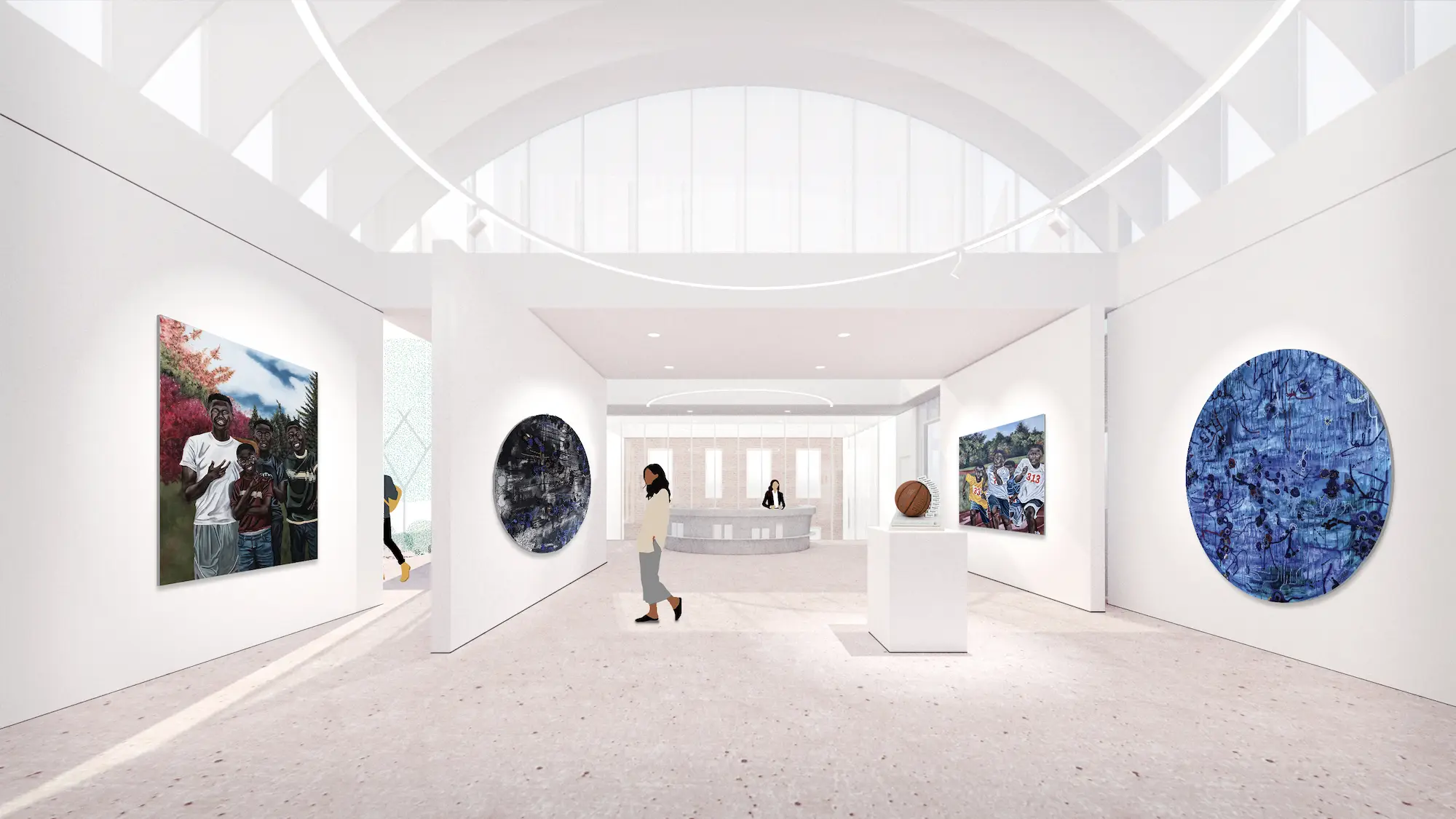 Interior rendering of the new gallery space. Image by LOHA, courtesy Library Street Collective
"The ultimate goal was to create something of an atmospheric lantern at night so that it becomes a kind of identity," says O'Herlihy, who expanded his Los Angeles–based practice to Detroit seven years ago with the opening of a satellite studio. LOHA's busy Detroit outpost will expand even further following the recent acquisition of a building down the street from the future new home of Louis Buhl & Co. that the firm plans to convert into a new office.
At the current development site is a brick structure that once served as a convent associated with the Good Shepherd, a Catholic Church located across McClellan Avenue that is also being transformed by Library Street Collective into a community art space. Photos courtesy Library Street Collective
Louis Buhl & Co. is currently located in an old garage space along Library Street Alley, a once-neglected downtown alleyway that has evolved into a curated open-air art environment known as The Belt. Neighboring Louis Buhl & Co. is its larger sister gallery, Library Street Collective, which itself moved down the block in 2021 into a new Snarkitecture–designed space within the historic L.B. King Company Building.
While Louis Buhl & Co. may be departing a bustling downtown arts micro-district, the gallery will be in very good company at its new home as direct neighbor to a buzzy arts and cultural campus set to open next spring across McClellan Avenue. Anchored by the former Good Shepherd Church, a 112-year-old Romanesque-style house of worship converted into a community arts center by Brooklyn-based Peterson Rich Office (PRO), the campus will also feature a Tony Hawk–designed skate park, a sculpture garden honoring the late Detroit artist Charles McGee, new headquarters for the Modern Ancient Brown Foundation, visitor lodging housed within an old rectory, and more.
1
2
Click to Enlarge: Louis Buhl & Co. program plan drawing (1) and contextual site diagram (2) of a larger arts and cultural campus that will be anchored by a former Catholic church. Images by LOHA courtesy Library Street Collective
Also in the immediate neighborhood will be Lantern, a mixed-use community art and education facility that will serve as headquarters for two local arts nonprofits. Housed within a former commercial bakery warehouse, that project is designed by Jason Long of OMA's New York office and is on track to open early next year, ahead of both the Shepherd campus and the new Louis Buhl & Co. building. This string of ambitious, arts-focused projects in the East Village—the Shepherd campus, Lantern, and now Louis Buhl & Co.'s new gallery and production space—are spearheaded by Anthony and JJ Curis, the husband-and-wife cofounders of Library Street Collective and Louis Buhl & Co.
 "What really makes this project incredible and a huge step for us is the production studio," explains Anthony Curis of the new home for Louis Buhl & Co, a gallery initially founded with the aim to work with artists on projects that "were a bit outside of their normal studio practice."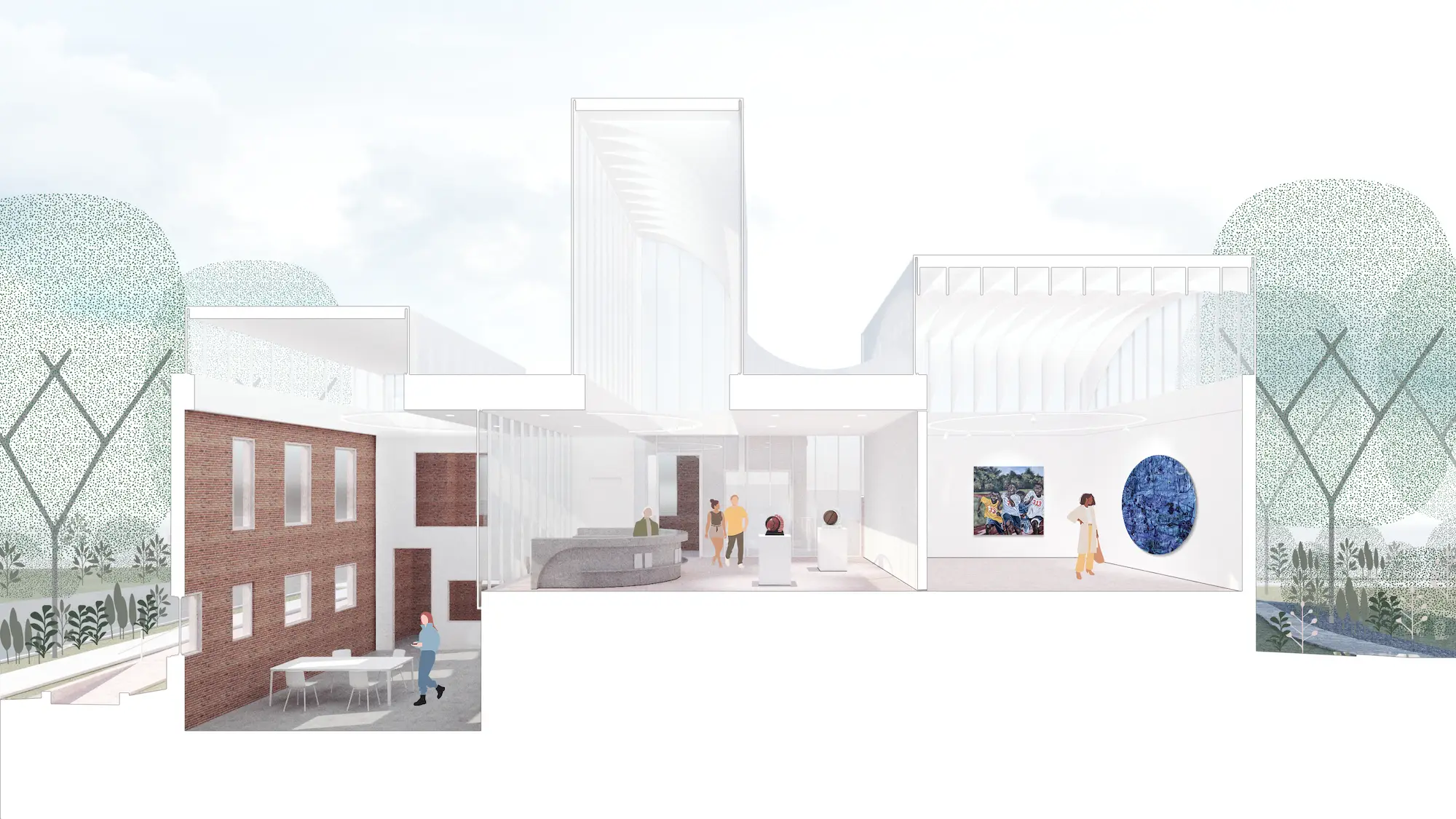 Section drawing of the new Louis Buhl & Co. building. Image by LOHA, courtesy Library Street Collective
"Obviously, the gallery space will be beautiful but having this production space will enable our internal team to work hand-in-hand with artists under one roof," he adds, noting that historically production was outsourced to various printers and vendors in Detroit and beyond.
Meanwhile, LOHA is fully leaning into its growing presence in Detroit, a city where O'Herlihy says the opportunities for adaptive reuse projects "couldn't be better."
"Taking the spirit of what's already there and elevating it is something that drives all of our [adaptive reuse] projects," he says.
"The most interesting thing about Detroit right now is the optimism," he adds. "There's a tremendous sense of moving forward—it's a city where people see and embrace opportunities. And that's what's exciting."
O'Herlihy also says that the "extraordinary optimism and can-do attitude" present in Detroit is in stark contrast to how things usually play out back at his firm's West Coast homebase.
"L.A. is a bureaucracy…it's an enormous, behemoth machine and the effort that it takes to get things done is extraordinarily difficult," he says. "Working with the City of Detroit I've learned that they want you to do things—there's the desire to say 'let's make this happen.'"