✕
On Friday October 27th, RECORD celebrated the 10th year of its Women in Architecture Design Leadership Awards in Manhattan. This year's honorees mingled with family, friends, and colleagues, as well as former Women in Architecture honorees, among them Carol Ross Barney, Anabelle Selldorf, Liz Diller, Jing Liu, and AIA President-Elect Kimberly Dowdell. Cathleen McGuigan, who developed the awards program during her tenure as editor in chief of the magazine, presided over the anniversary celebration. This year's jury—which included past awardees Stella Betts, Claire Weisz, and Julie Eizenberg, as well as architect Mark Gardner and critic Christopher Hawthorne—dispensed with the typical award categories. This was appropriate, McGuigan noted, as this year's honored group of women, though each embodying the fundamental ethos of serving the community through design, "defied categorization." Each 2023 honoree got the opportunity to speak briefly about their path into the field and the principles driving their practice forward, before accepting their award.
Previous honoree and 2023 jury member Julie Eizenberg (left) and 2022 honoree Carol Ross Barney (right). Photo by Laura Stiles, © Architectural Record
Anne Marie Duvall Decker, of Jackson, Mississippi–based Duvall Decker, accepted the first award of the night. The architect, with her husband Roy Decker, founded the firm 25 years ago based on their shared belief that "all architecture is public work." Motivated by both the blight and beauty of Jackson, what she called "the coexistence of the horrible and the heroic," the couple has dedicated their practice to public-facing projects that address social and economic inequities at a variety of scales—their transitional housing project at Baddour Center, a residential community in northwest Mississippi for adults with intellectual disabilities, is featured in the October issue of RECORD. "Architecture shouldn't be practiced as a conceit," said Duvall Decker, "But as a privilege and responsibility in itself, and as a radical act of service." 
Former leader of the Architectural League of New York Rosalie Genevro, who stepped down from the position in June, took the podium next. According to Genevro, her interest in architecture stemmed from her childhood in Southern California, where she observed sprawling developments that lacked attention to quality or human needs. "I saw the possibility of architecture as a vehicle for embodying service, creative expression, and community," she said. Genevro stressed in her speech the importance of finding social and cultural alternatives to growth, saying, "We need to consider not just what and where we build, but why."
Andrea Leers and Jane Weinzapfel, co-founding principals of Leers Weinzapfel Associates, were jointly honored in this year's ceremony. Weinzapfel attributed the success of their firm, which celebrated its 40th anniversary last fall, to the tremendous talent of their team—thanking principals Josiah Stevenson, Tom Chung, and Ashley Rao. "When we started, [Jane and I] had two primary goals," said Leers, "To practice architecture as a social goal, and to foster a workplace that we wanted to go into every day." (The enthusiastic cheers from the Leers Weinzapfel staff in attendance offered some indication of the success of the latter.) Leers emphasized the importance of supporting the next generation, saying, " We always knew there were women behind us—women who would see what we were doing—and understood the value of helping those who follow us."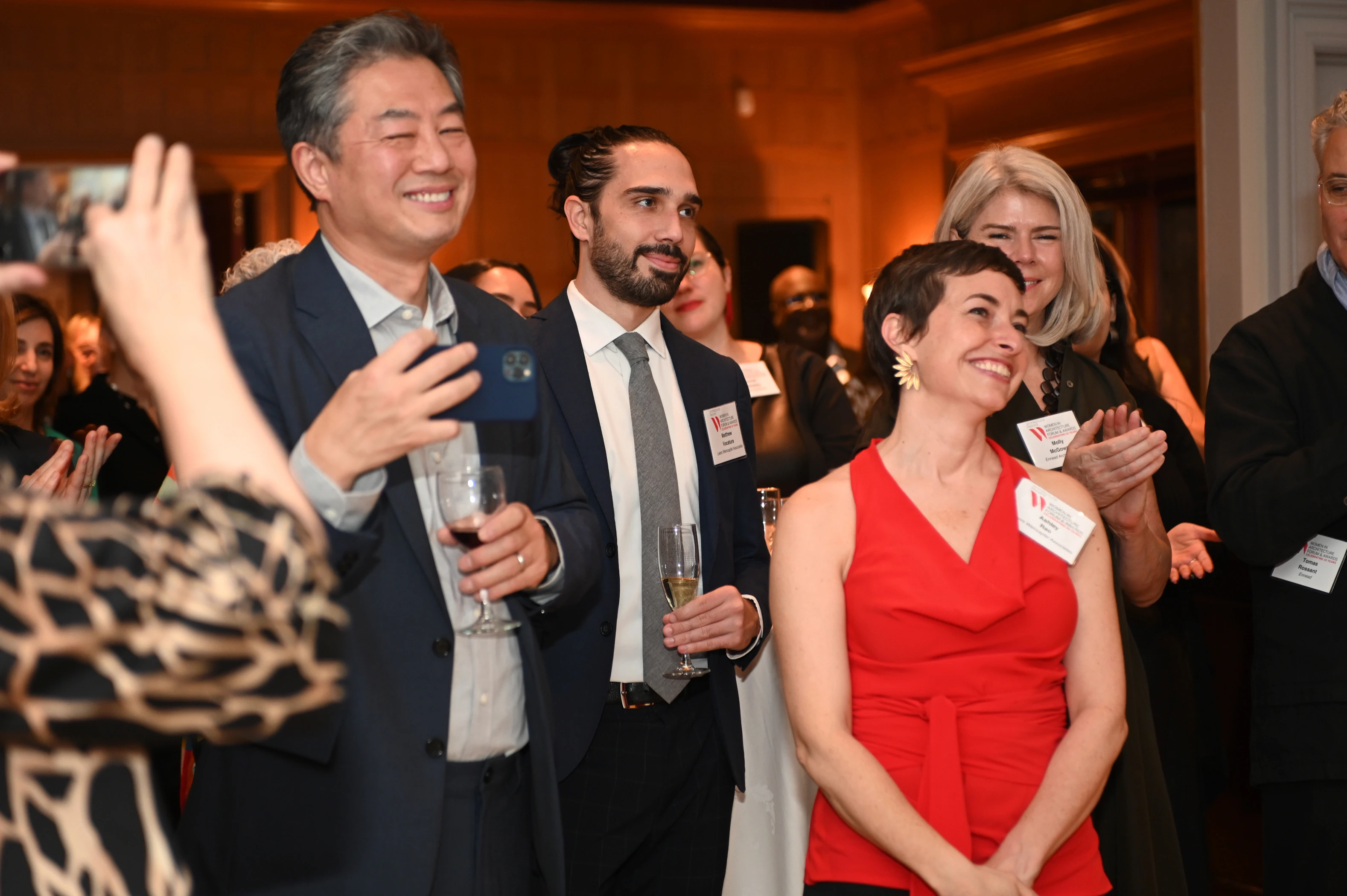 Leers Weinzapfel Associates staff in the audience. Photo by Laura Stiles, © Architectural Record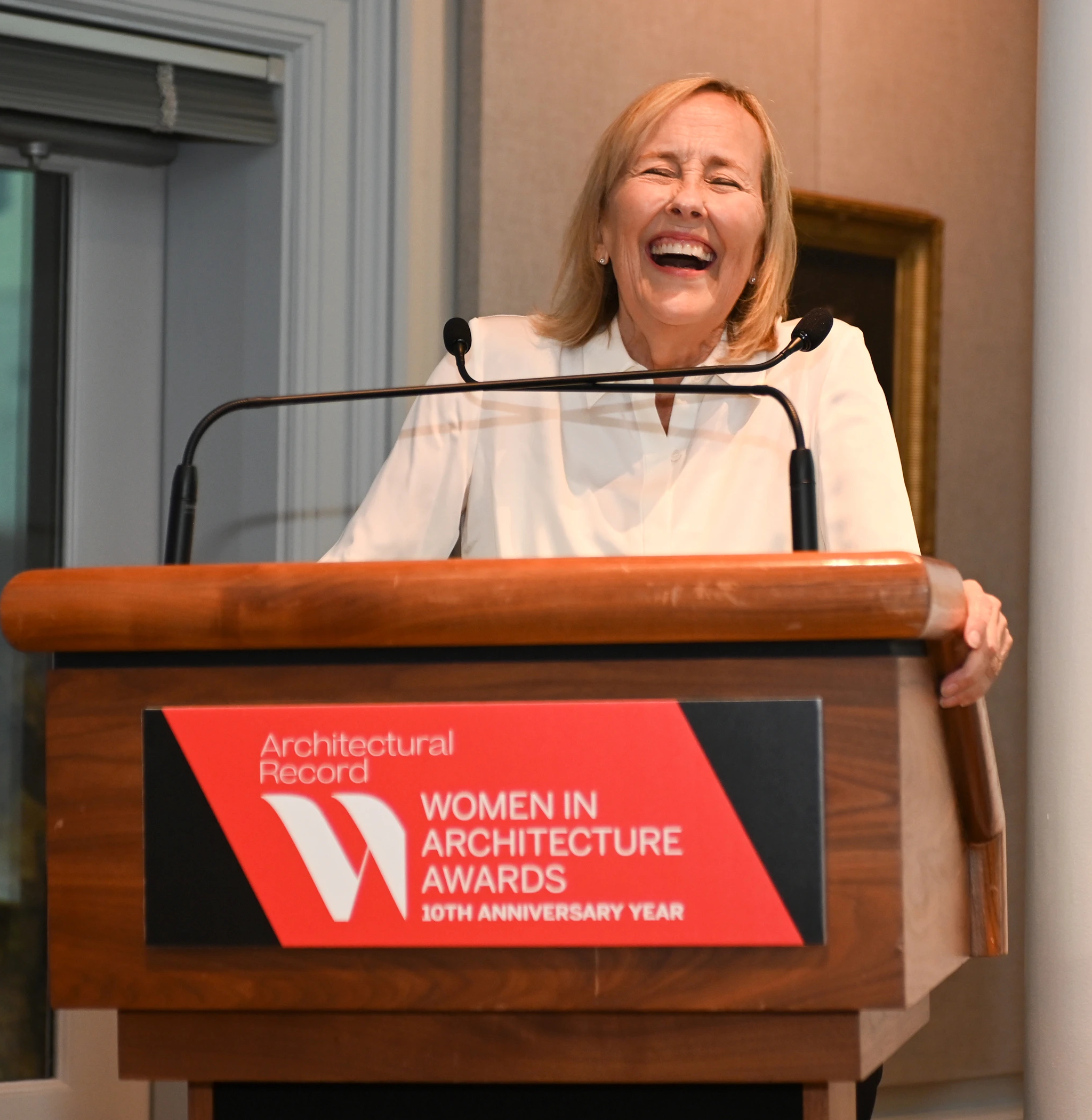 Julie Snow. Photo by Laura Stiles, © Architectural Record
Julie Snow of Snow Kreilich Architects, who founded her Minneapolis-based studio in 1995, followed with a humorous, off-the-cuff speech, first thanking her colleagues and family: "I hope my children have forgiven me for starting a practice," she said. Reflecting on the meaning of design leadership, Snow said she never considered herself as ahead of the pack, saying, "I'm not really an 'out-there' kind of person, I just want to bring delight to those who use our buildings." As considerations of equity and sustainability "rightfully" move to the forefront of architecture, said Snow, she urged architects not to leave qualities like delight behind. "As the territory of design expands, we can maintain its complexity," she said. 
The final recipient of the awards ceremony was author and educator Dr. Sharon Egretta Sutton of the Parson's School of Design, a notable trailblazer for women of color in the profession—among many other recognitions, she was the 12th Black woman in the country licensed to practice architecture, the first to be promoted to full professor of architecture, and the second to be elected to the AIA College of Fellows. Dr. Sutton recalled her activist work in 1970s New York as part of "a handful of women determined to change the face of architecture." Meeting in each other's apartments to "share wine-soaked stories" about workplace sexism and critique gendered conceptions of space, she recalled, the group eventually wrote up a manifesto to address sex-based discrimination in the workplace. "Today, most of our revolutionary ideas are commonplace," said Dr. Sutton, but she implored the next generation of architects to continue the work: "Take the leap for a world where the needs of all marginalized people are primary."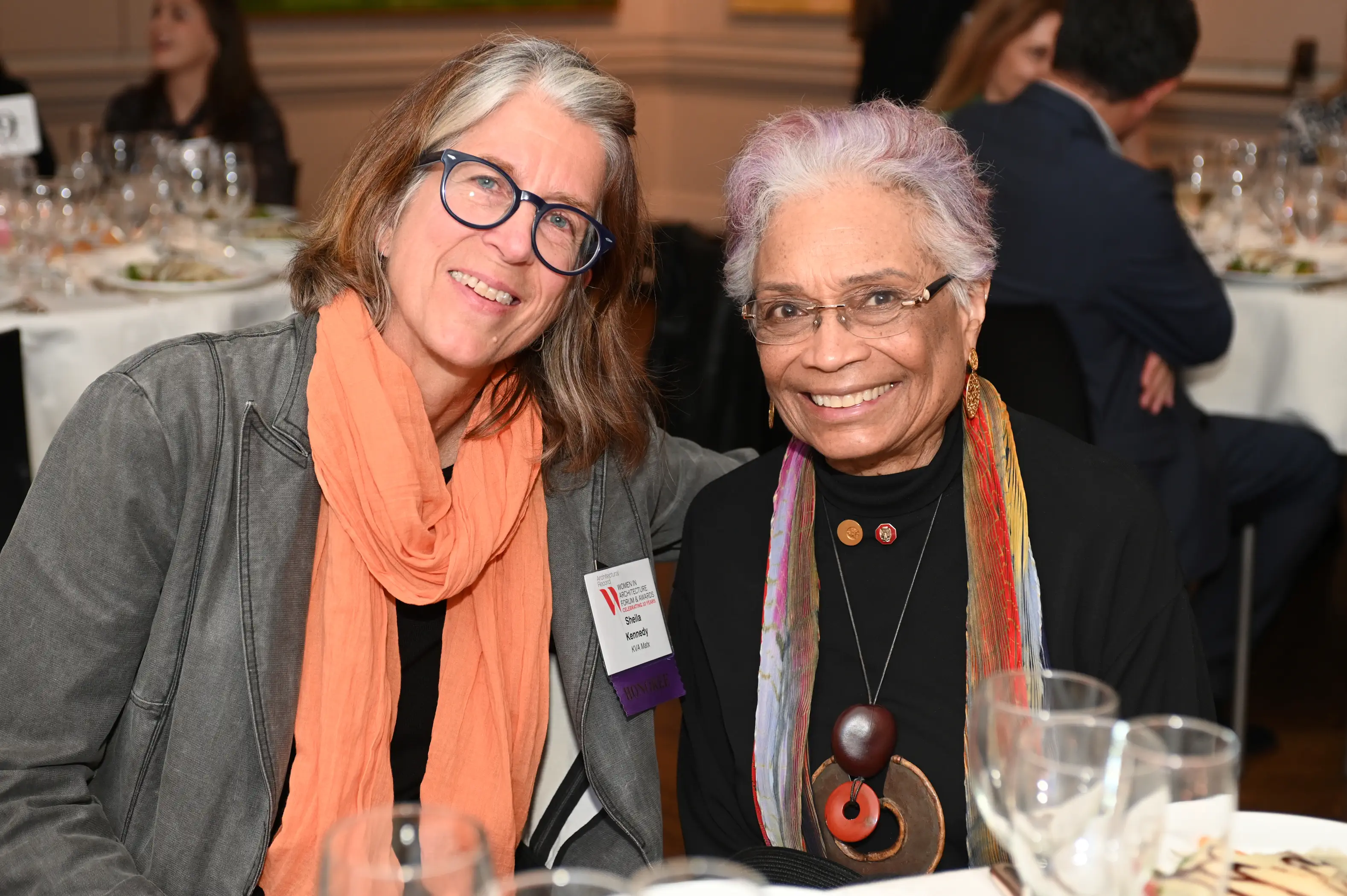 Previous honoree Sheila Kennedy (left) with Dr. Sutton (right). Photo by Laura Stiles, © Architectural Record